One of the finest bird parks in the world, Bharatpur Bird Sanctuary also known as Keoladeo Ghana National Park in located in the state of Rajasthan of India. 'Ghana' means dense, referring to the thick forest, which used to cover the area. Nesting indigenous water- birds as well as migratory water birds and waterside birds.
The major attractions of tourists visiting the park are the numerous migratory birds, which come from as far away as Siberia and Central Asia and spend their winters in Bharatpur, before returning to their breeding grounds. Migratory birds at Bharatpur bird sanctuary include, several species of Cranes, Pelicans, Geese, Ducks, Eagles, Hawks, Shanks, Stints, Wagtails, Warblers, Wheatears, Flycatchers, Buntings, Larks and Pipits, etc.
Attractions
The Keoladeo or Bharatpur Bird Sanctuary covers an area of around 30 sq. km. with well-defined treks, which can easily be covered on foot or on a cycle which is the best way or one can even hire a rickshaw where the rickshaw pullers have been trained by the park management in bird watching and are quite knowledgeable. Besides these, boats are also available on hire and a boat trip early in the morning or late evening is great experience.
Winter months of November to March is the best time to visit the sanctuary when Palearctic migrants join the resident birds.
Over 300 species of birds are found in this small park of 30 sq. km. of which 11 sq. km. are marshes and the rest, scrubland and grassland. There and raised pathways, camouflaged by babul trees and undergrowth make viewing easy. Every year Bharatpur waits eagerly for the arrival of the Siberian cranes. There are only two wintering places for this rare species one in Iran and the other Bharatpur and these beautiful birds with their distinctive red beaks and facial patches, fly over 6400 km from their summer retreats in Siberia, to get to them. These crane arrive in December and stay till early March. It is also an excellent place to watch mammals like Golden Jackal, Striped Hyena, Fishing Cat, Jungle Cat, Nilgai, Sambar, Blackbuck and wild Boar.
What was once stared as the private duck shoot game for the Maharajas and now it is a protected bird sanctuary of international fame as UNESCO World Heritage site.
Travel
Bharatpur is easily reached by bus or train, also private cabs from New Delhi or Agra can be hired. The Park is pretty close to the bus stand and railway station.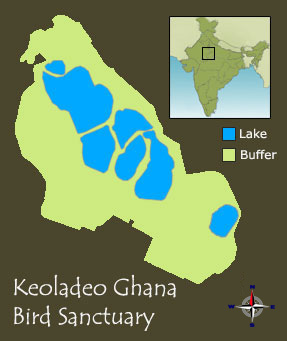 By Air
Delhi is the nearest International airports for Bharatpur Bird Sanctuary. New Delhi being the capital of India is very well connected by air and many airlines fly direct there. Agra is the nearest domestic airport for Bharatpur. That's about 55 kilometers (35 miles) east of Bharatpur. Air connectivity to Agra is moderate with respect to other large cities in India. There are flights to Agra from Bombay ( Mumbai), Delhi, Varanasi, Khajuraho and Lucknow.
By Rail
The nearest railway station is Bharatpur Junction which is 5 kms. from the park. There is direct train between New Delhi and Bharatpur. You can take Kota Janshtbdi from New Delhi (Hazrat Nizamuddin Station) to Bharatpur Junction.

Travel distance between New Delhi And Bharatpur is about 167 kms and it takes about 2.5 hrs of travel time by train.
By Road
Bharatpur is well connected with other parts of the country by very fine roads. You can travel by your own vehicle or by buses which are available from Delhi, Mathura, Jaipur, Alwar and neighboring cities.
There are no direct buses between New Delhi and Bharatpur. However, the best way to reach Bharatpur from New Delhi is to take State transport bus from New Delhi to Mathura then take Pnbe Kota Exp from Mathura to Bharatpur.
Foreign nationals coming to India are required to have valid passports of their country and a valid Indian visa. Passport should have at least 2 blank pages and the validity date should be more than 180 days. Those arriving in India without a visa bearing the correct validity dates and
Maps & Area
function initialize_30() { if(maps[30] === undefined) { var gmap_options = { center: new google.maps.LatLng(27.15692,77.523651), zoom: 10, mapTypeId: google.maps.MapTypeId.ROADMAP } maps[30] = new google.maps.Map(document.getElementById("map30"), gmap_options); } else { setTimeout(function(){ google.maps.event.trigger(maps[30], "resize"); maps[30].setCenter(new google.maps.LatLng(27.15692,77.523651)); }, 30); } } jQuery(document).ready(function(){ google.maps.event.addDomListener(window, "load", initialize_30); });

Tips
Consult your doctor 4 to 6 weeks before your travel to India to ensure all precautionary medication and vaccinations are taken care of.
Check the weather conditions during your travel dates to ensure right type of clothing. Click here to view Current Weather
Some important items to carry during your trip are insect repellent, torch light and a cap/hat.
Do not feed animals and birds for you own safety as well as for the animal well-being.
Avoid wearing very bright cloths and fragrant perfumes while on bird watching trip.
Indian Rupees (INR) is the only currency used in India but other international currencies like USD ($), EUR (€) & GBP (£) can be easily exchanged at hotels and money changers.
Bharatpur is a small sub urban city and therefore is advisable to carry enough local currency in cash.
Stay at a place that is a short walk from the park. The budget varies anything from Rs 500 ( USD 10) for a reasonably decent accommodation to Rs 4000 (USD 80) for an upscale hotel room.
Hotel Bharatpur Ashok is a state-run hotel located inside the Keoladeo National Park and provides a golden opportunity to stay inside forest.
Visitors are advised to reach the gate half an hour in advance to complete the formalities for entry into the park.
1 USD is about 60 INR. Click here for Currency Converter